Vol. 2, Issue #23 December 7th - December 20th, 2007
Awesome Color
By: Graham Lee Brewer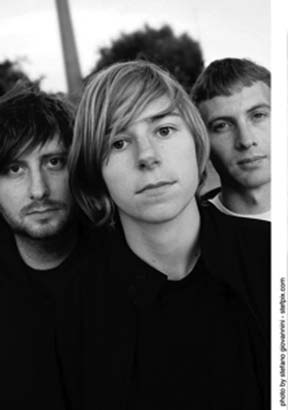 When I heard that Dinosaur Jr. are headed to Oklahoma for their second gig here this year, I was pretty excited. When I found out their show had been moved to the Conservatory, I wanted to write this article even more. There was only one problem: J Mascis hates doing interviews, and it shows. I interviewed him for their Tulsa show with The Black Keys a few months back and it was easily the most awkward and grueling ten minutes of my life. I'm talkin' straight brutal. Luckily two of my favorite new bands are opening: Colour Revolt and Awesome Color, along with Andy. I was able to chat with Awesome Color frontman Derek Stranton and drummer Allison Busch, two really down-to-earth, humble skaters from Michigan.
Awesome Color fire off straight-forward rock on their self-titled debut, which came out earlier this year on Thurston Moore of Sonic Youth's label Ecstatic Peace. It's gritty, it's raw, and most notably, it's natural. I fell in love with this album the moment I got it. Stanton's voice, reminiscent of Bon Scott, is pure in the roughest way possible; the same can be said for his guitar work, but you have to be distinguishable to get noticed by someone as iconic as Moore.
"He emailed us and asked if we wanted to do a record," Stanton said. "We called him to find out if it was him or not. I didn't know if it was real at first."
The album has that in-your-face spontaneity that graces so many rock trio albums of the past. After listening through it a couple times, I imagined it was recorded as a full band like many of those older rock albums, a notion Stanton later confirmed.
"We do it all at once," he said. "Sometimes the vocals are from scratch. We don't add too many over dubs, you know. We just play. We get together and jam. Everything's spontaneous for us. And when we're on the road the songs develop more and more. We'll play a song we just wrote in the practice space at a gig a couple nights later. Then, by the twentieth gig the song will be a little bit more developed. We never really play the same song twice, or the same lyrics twice, they're always changing. That's fun for us."
The most amazing thing about Stanton and company is that they're just so young. They've only been together for a few years and it's hard to find fault in their music. The group clicks really well, and Stanton's voice and clever lyricism have a weird way of growing on you. It's been a long time since I've heard anything like it.
"Personally, I don't particularly like my voice," Stanton said. "I don't know that there is anyone out there that really does. I don't think that I was born to sing, and maybe that's why it's interesting. It's definitely not normal. Neither is my speaking voice."
Even though the group is young, they take notice of their influence on the younger generation of music fans. Perhaps their age is the reason for that. They take notice when young kids show up, and they're happy to talk and connect with their fans.
"It's great always when you meet young kids, like 14, who like your music," he said. "It's pretty inspiring to think that there might be another generation that will connect with you. We're a band that's made of young skaters, young guitar players who hope that one day we'll be a band that influences kids. You never know. It's a goal."
Dinosaur Jr., Awesome Color and Colour Revolt at The Conservatory. This is one of those once in a lifetime shows rock fans fucking drool over. Don't sit this one out. Check out these bands if you're not familiar with them and make it out to the show on December 9. Trust me, you'll be glad you did.
Doors at 7 p.m., tickets are $20 at all Party Galaxy locations, online at www.okctickets.com or charge by phone at 866.465.5483. This show will sell out fast!