Vol. 1, Issue #22 Nov. 24th - Dec. 7th, 2006
And You Will Know Us...
By: Graham Brewer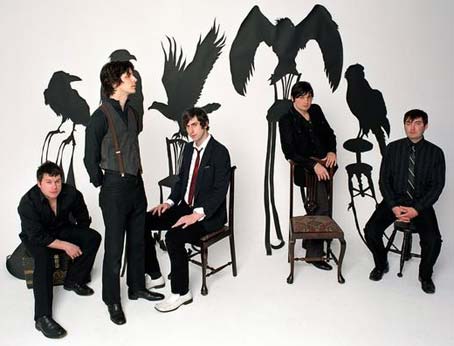 With the release of their third major label record, Austin, TX avant-rockers, And You Will Know us by the Trail of Dead weren't trying to make nice with their critics. Instead the Texans did it their way and gave in to the inevitable evolution of their song writing, throwing expectation to the wind. So Divided is a pastiche of several genres and a radical unpredictability. The Sonic Youth references are sure to rain down on Trail of Dead due to the album's "melting pot" quality.
"I really didn't want every song to sound the same. I had to make a conscious effort to experiment with different ideas and genres," said vocalist, guitarist, and drummer Jason Reece. "A lot of it came from trying to see whatever crazy shit we could come up with."
So Divided starts off like Trail of Dead albums often do, with an intro track. This one, aptly named "Intro: A Song of Fire and Wine," consists of the scattered atmosphere of a crowd awaiting a show and leads you into the energetic beginnings of "Stand in Silence."
"The song "Stand In Silence" is that kind of go-for-it rock craziness with some nice orchestral movements," said Reece, "That one has the best of both worlds."
The album is built on the band's invigorating courage to approach so many different styles and influences in their song writing. "It's like we will listen to certain things and they'll kind of seep their way into what we are doing," said Reece. Extended bridges and tempo flipping, often powerful transitions bend their way through several songs. Songs like "Life" and "Naked Sun" show off the sultry and bluesy qualities of the rockers music and others like "Eight Day Hell' are Beatle-esque ballads that force your head to bob. Trail of Dead even throw in a Guided By Voices cover, "Gold Heart Mountain Top Queen Directory."
So Divided is yet another example of how tearing down the norms and conventions of rock can prove to be the formula for making progressive and unique music. The structured chaos of the album is a welcomed separation from what most other rock bands are producing, and even though it's receiving mixed reviews, is easily one of the band's most ambitious and defining outputs.
The band is currently touring the States with the help of Norman, OK native Clay Morris on keyboards. Fellow Normanite and Trail of Dead tour manager, Dylan Mackey, contacted Clay two weeks before the tour and asked him if he'd would be interested in filling in. "It's almost unreal sometimes playing in a band like trail of Dead," said Morris, "I first started listening to Trai of Dead about five years ago. It's pretty cool to meet some guys whose music I used to own and start playing with them."
After eleven days of crashing at guitarist Kevin Allen's house and practicing with the band Clay hit the road. "We practiced for about three to five hours a day and then we were off. I've gotten to play some amazing places and see cities I've never been to," Morris explained. "We just got done playing the House of Blues in Chicago, and our first show in New York was a sold out crowd of about 1500 people. The most I've ever played for is maybe 30 or 40."