Vol. 3, Issue #13 July 18th - July 31st, 2008
The All-American Rejects: Oklahomecoming
By: Becky Carman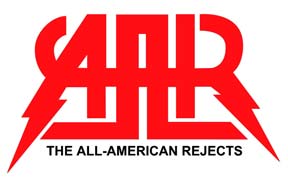 While the Dfest lineup is, quite intentionally, a hotbed of local talent, much of it is confined to the clubs and diners, bars and after parties, which, while well attended, don't possess quite the grandeur of the main stage. This year's festival, though, once again establishes Oklahomans not only as talented artists at home but also abroad. Indeed, Oklahoma is a key player in the music biz, and there will be no greater proof of this than Friday, July 25, when double-platinum Stillwater and Edmond natives The All-American Rejects take the Hadaly Stage at midnight, and it's likely nobody is as excited for the homecoming as the Rejects themselves.
"Playing [here] means I get to sleep in my own bed at night. I like that," said guitarist Mike Kennerty. "I'm not complaining, 'cause I've got a great job that I love, but I love Oklahoma, too. I do cherish the time I get to spend there."
This is a hometown rest six years in the making, as AAR has been in seemingly perpetual motion since the breakthrough success of their 2002 self-titled debut, shortly after the addition of Kennerty and drummer Chris Gaylor to founding members Tyson Ritter and Nick Wheeler. So many years on the road have given the Rejects a newfound synchronicity, evident not only in their stage interaction but in the new music as well.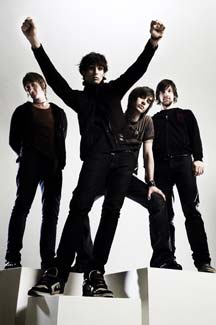 "We're definitely all very in tune with each other at this point," Kennerty said. "It doesn't take much practice to get back into the groove of playing together. A lot of times, we come off a break and just do our sound check before a show, and that's enough. And the same usually goes for writing songs, too. We all know what to expect now, so it's pretty comfortable going in."
It is, perhaps, this creative comfort that has led to the lengthy holdup on AAR's third studio album, lately a subject of much vexation for its fan base. A cursory scan of early Rejects press yields the dreaded "one-hit wonder" tag more often than not. That the band has survived beyond expectation on the whim of record buyers with the shortest attention spans in the history of the music business is a feat in itself, but will the fans wait for this record? It's a gamble, but it's one the band members believe is warranted.
"The record is coming along. We've been slaving away on it for months now," Kennerty said. "We've been told we're being extra critical on ourselves, but we've gotta be happy before anyone else is. We're on the home stretch now. Hopefully we'll have it in the can by the end of summer and in stores in the fall."
As far as the immediate future, Kennerty looks forward for sentimental reasons to the band's first Oklahoma show in quite some time.
"Playing at home is always special," he said. "Whether it's just us being stoked to be back in Oklahoma or an actual different reaction from the crowd, something is not the same as the average show, but it's great."
Though Kennerty, who admitted he's "kinda out of it" regarding new music, may not recognize the rest of the bill, joining the Rejects on the Hadaly stage Friday are a host of other acts, including Phantom Planet, buzz band Paramore and a name he does recognize – Oklahoma City's The City Lives.
"I'm excited to see the City Lives," Kennerty said. "I like those guys a lot."
So much, in fact, that Kennerty has signed The City Lives to his Doghouse Records imprint, called – of course – Edmond Records in homage to his beloved hometown. Also on the label: a Ben Weasel LP (on which Kennerty and band mate Chris Gaylor performed), a forthcoming Riverdales reissue and, along with The City Lives, another debut record from New York's The Upwelling. Impressive for a startup label whose owners – Kennerty and Rejects front man Tyson Ritter – are currently tackling a record of their own.
"I'm really excited to get to work with both those bands, and think they're going to be great albums," Kennerty said. "So, yeah. Keeping busy so far."