Vol. 2, Issue #13 July 20th - August 2nd, 2007
Ali vs Sherree
By: Nathan Winfrey - Photos By: Chris Albers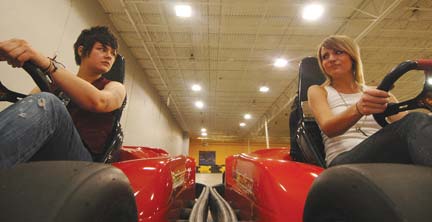 Local singer/songwriters Ali Harter and Sherree Chamberlain share a connection deeper than their status as talented, driving forces behind Oklahoma's burgeoning local music scene. They've known each other for ages, attending the same high school years ago, and now that their musical careers overlap and they prepare to share billing at Dfest, it was only a matter of time before one of them disrupted the fragile truce that exists between all musicians.
During a coincidental meeting on the street, Ali said something bad about Sherree's mother, and that's when things turned nasty. Harsh words and angry looks were exchanged, and they knew instantly their feud could be settled the only way true musicians know how to—a death-defying round of go-karts!
Luckily, they were close to the Pole Position Raceway, an indoor course off Interstate 44 at the corner of N.W. 36 and May Ave. featuring a ¼ mile track and the fastest rental karts in the country. It wasn't long before Ali and Sherree were belted in and exchanging mildly intimidating grimaces.
They inched to the starting line, their electric karts shuddering under the roar of their 20-horsepower engines. At the checkered flag, tires squealed and the pungent sting of burning rubber filled the air.
Both cars were off like bolts of lightning hurled from Mount Olympus, and as they rounded the first hairpin turn, it became clear that Ali aimed to dominate the track. She had a firm lead on Sherree from the start and wasn't letting her past, swerving to block her attempts to jet ahead and laughing over her shoulder at each of Sherree's failed attempts.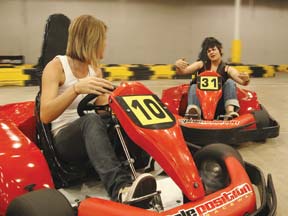 Ali started throwing wrenches, handfuls of nails and crushed beer cans into Sherree's path, which her tires bounded over without tearing but the slippage in her traction caused by the debris made her lose valuable inches.
Pressing the gas with both feet to be sure the pedal was down as far as it would go, Sherree leaned forward over her steering wheel to reduce wind resistance and slowly gained on Ali, who too busy maneuvering a more treacherous stretch of track to notice.
Thumbing a secret button under her seat, Sherree's wheels sprouted an array of fierce-looking spikes which gleamed dazzlingly under the bright lights. Jerking the wheel in Ali's direction, the whirling spikes caught Ali's kart just behind her back tire, creating a shower of sparks and a horrible noise like aluminum cans in the garbage disposal.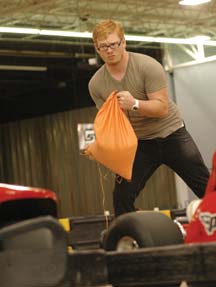 Not surprised at all that Sherree would stoop to cheating as well, Ali had one more trick up her sleeve—there was a cliff fast approaching, and Ali would make sure Sherree went off it. But all of a sudden, Sherree's bassist, Quint Anderson, appeared carrying a large sandbag to tip the scales in Sherree's direction. Using his body for leverage, Quint hurled the heavy bag onto the track. It landed directly in front of Ali's front wheels, and the impact sent her kart sailing through the air as Sherree eased past and crossed the finish line.
After the dust settled and Ali got out of the hospital, the girls decided to put their differences aside and look toward the future.
"It's been pretty tough learning to balance on one leg while playing the guitar, since it couldn't be reattached," Ali said. "Sherree can't be held responsible for her band mate's actions, and since Quint works at Limbs for Life, we are hoping to save up for a prosthetic."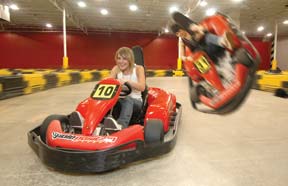 Ali has opened for such acts as Steel Train at the Conservatory and Dierks Bentley in front of 6,000 people in Lincoln, Nebraska, playing dark soul-folk with rock n' roll roots. She mixes rock, soul, funk, jazz, a cappella, stomp, alt-country, bluegrass and other genres into her "kitchen sink" sound. She's currently gearing up for a nation-wide tour with mind-blowing instrumental rockers, The Non, to promote her latest CD "Worry the Bone," before she heads off for a French tour in the winter.
"I haven't been able to eat or sleep since the race," Sherree said. "Not so much from beating Ali, but the fact that I had a crush on Scott the go-kart manager. I knew that the sooner the race was over, the sooner I'd have to leave him. I'm still coming to terms with it. I think I'm going to have to buy a season pass."
This is The Sherree Chamberlain Band's first year to play Dfest. Sherree said she and her indie/folk band are honored to be a part of the festival, and they're all excited to see so many incredible local musicians play all at once.
"It's not every day you can sit a crowd of people down and make them all be quiet and listen to you spill your buts for all to see. It's terrifying really, but it's really humbling talking to people after shows and realizing that I'm not unique in my thoughts," she said.
After Dfest, Sherree and her band will record a new album with keyboardist Chad Copelin at Black Watch Studios in Norman.
"I decided, a long time ago, that I would not measure my success and accomplishments by popularity, recognition or any type of fame," she said. "Success and satisfaction come, for me, by taking part in my craft—putting thoughts into words and feeling into melodies and then meshing them together to make something pretty out of a big, muddled mess."
Ali Harter will play Capella's at 10 p.m. Friday and The Sherree Chamberlain Band will also play Capella's, 8 p.m. Saturday. Capella's is 21+.