Issue #7 April 28th - May 11th, 2006
A Drummer's Circle
By: Adrian Fallwell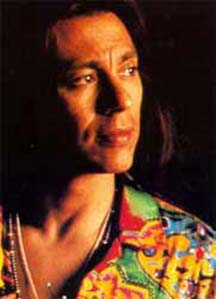 The funny thing about this article is it's written by a drummer regarding a drummer, who's doing a documentary about a drummer. The last drummer mentioned there is someone you've probably seen before. Can you recall the Ozzy Osbourne "No More Tears" video? Remember the toned, ethnic looking drummer with long, straight black hair, pounding away, flashing by in short, split-second video segments? That's Randy Castillo, drummer for Ozzy for 9 years, as well as Tommy Lee's replacement in the 2000 line-up of Motley Crue. Sadly, Randy died of cancer in March of 2002, but a local drummer turned filmmaker is working to keep his spirit and legacy alive. That drummer is Michael Bell of the Eighteen Lights Foundation, a producer of the currently working documentary, Uncommon Passage: The Life, Blood, and Rhythm of Randy Castillo. Bell has spent the last couple of years compiling interviews with some of the biggest names in rock 'n' roll, all discussing how Randy has influenced them, not just musically, but on a personal level as well. So, now tables are turned, the camera is on Michael Bell, and here is an interview with him about his documentary for Randy.
How did you know Randy?
"I met Randy in '77. I was 16, sneaking into a club called Stage Door in my hometown of Wichita, Kansas. He was a big influence on me. I had never seen a drummer quite like that. I befriended Randy, and we stayed friends for years, until his passing. You know, I've been playing drums for 32 years. I've seen a lot of concerts, and I've seen a lot of drummers, but he was completely different. His style was just mesmerizing."
"He had one of the fastest right legs I've ever seen, triplets with one foot. Back when we were starving in L.A., in the early '80s, I'd go over to his house, and he'd constantly be doing foot exercises, and working his sticks. He would do a marine march, which entailed keeping a beat while spinning, hitting a down beat on the snare while doing all these tricks. Randy, back then, before he was really famous, was influencing all the up and coming drummers, which were an unsigned Tommy Lee(Motley Crue), Eric Singer(A. Cooper/KISS), Rikki Rocket(Poison), Brian Tichy(Ozzy), Bobby Blotzer(RATT). They became eventually influenced by his style, took bits and pieces of his style, and added it to their own."
Tell us about Randy's early career.
"I moved out to L.A. in the early '80s, and randy was out there. He was in a band called Cold Blue....then Randy got a fill-in touring job with The Motels. Then did a brief tour with Al Stewart, "Year of the Cat" and "Time Passages", if you can imagine Randy drumming on those tunes. From there he went to a band called Stone Fury...they had a hit out. Randy was on MTV for the first time. From Stone Fury he went to Lita Ford and drummed on the Dancin' on the Edge album. Then, as the story goes as Bobby Blotzer tells it, Bobby was in the car with Tommy Lee. Ozzy, and Sharon, they were all in the car. Ozzy was complaining that he needed a drummer, Tommy Aldridge had left his band, and Bobby and Tommy Lee suggested Randy Castillo. Randy went to L.A., auditioned and got the job, and was with him for 9 years after that."
How did the documentary get started?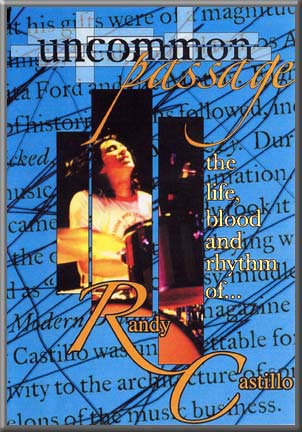 "At the funeral, his sister, Chris Castillo, said 'Somebody should do a documentary about my brother,' and I said 'No kidding, that's a great idea'. I had taken some cinematography years ago, and I have a real good friend, teaches film and editing at Oklahoma University, Jerry Lossberg, and he influenced me too. In getting interviews, so far everything has fell together, no hassles. Mike Bradley and David Smith, the other associate producers on this project, both commented that Randy must be watching from above because the thing is just writing itself."
Among the interviews you've done, have you had any bass players?
"We've covered about all the bass players that Randy has played with, starting with Rick Wilson who Randy played with in the Wumblies, and he was also with in Stone Fury. I've never seen a documentary, about rock 'n' roll, where it entailed the bass player, drummer relationship. One of the many threads that's going to run through this documentary, is what it is like to play in a rhythm section. What is the relationship between drummer and bass player?"
What is going on now with Uncommon Passage?
"Sharon Osbourne has indicated that she may be interested in possibly executive-producing this piece, since she was his boss for 9 years. She actually wrote his paychecks, and they were real close. Sharon recovered from cancer and, unfortunately, Randy passed away from cancer. Too many Marlboro's basically. We hope that she's on board with us."
"We've got his 'rock star' friends interviewed already. That's pretty much in the can. What we're doing now, with a biographer, is going to Albuquerque. We'll be spending two weeks there, and really getting his childhood. There's a story that needs to be told. In Albuquerque, in '71, there was a division in the city where the Hispanics/Native Americans lived on one side of the tracks, and the Caucasians lived on the other side, and they all sort of ran in their own circles. In the music scene, with the bands, there was no inner mingling. Randy was the first drummer to break that racial barrier and went on to play in a very popular band there in Albuquerque. He is a hometown hero. When Randy passed away, the Mayor of Albuquerque declared December 18th, Randy's birthday, to be Randy Castillo Day."
"His sponsors for 20 years, Tama Drums and Zildjian, also DW and Evans, all these companies have expressed in helping us either A, donate to the foundation, or B, help fund the documentary. Modern Drummer, as well, wants to do an article and sell the documentary in the back of the magazine, for the donations to the foundation, of course."
Tell us about the foundation.
"All profits for this film will go to the Randy Castillo Foundation, which provides musical instruments to under privileged youth, not only in Albuquerque, but around the country. Randy played with Ozzy Osbourne, he had long hair and jewelry, toured the world, and was this bona fide rock star, but when he would come home to Albuquerque, he was very generous. He would help a lot of under privileged youth. That was a passion of his. When they couldn't afford to buy a drum set, he would buy them, and did it over and over. Everyone we've interviewed, from Sammy Hagar to Bill Ward to Steven Tyler, everybody had the exact same impression of this guy. I was a friend of his, way before he was famous, he was a great guy then, but for him to carry that through his life and affect people that way, was just amazing."
For more about Uncommon Passage: the Life, Blood, and Rhythm of Randy Castillo, visit uncommonpassage.com.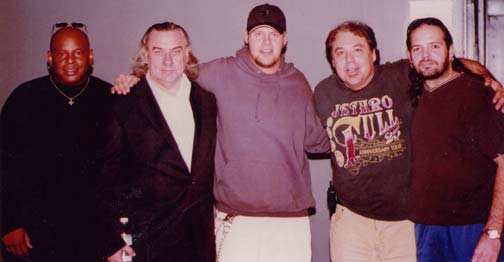 Left to Right: Mike Bradley (independent drummer), Bill Ward (Black Sabbath Drummer), Chris Fehn (Slipknot Drummer), Michael Bell and Carmine Rojas (Rod Stewart Bassist)
WATCH VIDEO CLIPS
OF THE INTERVIEW