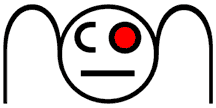 (this information is posted for archival reasons, NONzine is no longer in print)
Brief Overview & Mission Statement:
NONzine.com is counterpart to the Oklahoma Art & Entertainment publication, NONzine. The content you see here is only a sample of what is printed in the actual paper. There is also exclusive content here, not found in the publication.
NONzine is a free, tabloid-size, bi-weekly, arts and entertainment publication, distributed throughout the Oklahoma City Metro area and surrounding locations. It is our goal to promote and unite the:
artists
musicians
writers
filmmakers
publishers
non-profits and other organizations
clubs and music venues
galleries
and other small businesses
from a diverse array of all the different "scenes" that Oklahoma has to offer, so that, through the arts, we may grow stronger as a community.
Beyond promoting Oklahoma arts to just Oklahomans, we hope to shine a spotlight on the local art and music scenes that will reach an international market, and bring attention and support from a world-wide audience.
History:

In January, 2006, Michael Taber and Adrian Fallwell came together to create NONCO Media, L.L.C., an Oklahoma City based media company that focused on promoting local arts, music, and small local business. The first thing NONCO did was start a free bi-weekly tabloid magazine devoted to these goals.  On February 3rd, the first issue of NONzine hit the streets, immediately catching the attention of many readers with an array of content that was different from what had been seen in local papers before then, including hip-alternative comics and theatrically staged photo shoots with bands and local business. Several local writers began to contribute, and by the fourth issue, NONzine started it's biggest claim to fame: A new artist every issue is presented in full-color on the cover with a center-spread feature.  Excitement about NONzine quickly grew with this new, more direct, way to focus on local artists and events. Along side the magazine, NONCO created a web presence with NONzine.com, where certain features of NONzine could be viewed online along with links, as well as other content, such as videos corresponding with articles.
NONzine quickly expanded to nearly 200 distribution points throughout Oklahoma City and the surrounding suburbs, often moving hundreds of issues out of a single location.  By 2007, NONzine had excelled in popularity and grown to an estimated readership of 20,000. Major art organizations began adding NONzine to their annual advertising budget, and the professional community recognized NONzine as a viable and lasting publication, as opposed to the usual short life span of most independent publications.
In the summer of 2007, NONCO partnered with Chaotic Studios, building a fully functional video production studio with both white and green 30-foot cycloramas.  Chaotic Studios opened for production at the beginning of 2008, and pictures of the facility can be viewed online.
Also in the summer of 2007, NONCO partnered with TOGI Entertainment, and started an online, one-hour, weekly radio show called NONcast.  The show focuses on presenting a huge variety of local bands, local comedians, interviews, and much more.  Like the web site, NONcast often corresponds to what is in NONzine, and gives the reader a chance to hear the band being reviewed or interviewed.  Each show premiers on TOGiNET.com every Friday at 1pm CST, and then is available for download from the archive the following morning.
Now in its third year, NONzine is an established part of the Oklahoma art and music scenes, and continues to reach out to all aspects of the community, sponsoring a multitude of events and non-profits.  NONzine continues to add distribution and expand its readership throughout the OKC Metro and surrounding areas.
NONCO is currently working to create the NONfactory, a multi-office, mult-arts complex with gallery space and more.  Efforts are also being put into a new web site design with new features, such as streaming video and RSS feeds.
Contact Info:

NONzine is published by:
NONCO Media, L.L.C.
3122 N. May Ave.
Oklahoma City, OK  73112
405.917.7742
Staff:
Michael Taber editor@nonzine.com
Editor and Co-Publisher (design, content, events, and advertising)
Adrian Fallwell adrian@nonzine.com
Producer and Co-Publisher (design, distribution, multimedia, and advertising)